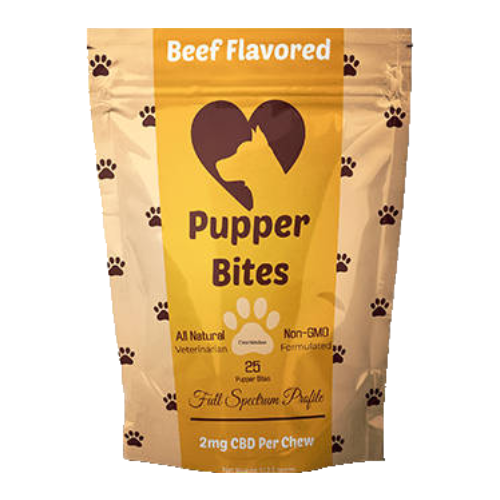 Pet
Pupper Bites
Pupper Bites are CBD soft chews for dogs. Each Pupper Bite contains 2mg CBD per soft chew, allowing your favorite pet to enjoy the all-natural benefits of CBD. These veterinarian formulated soft chews contain a full-spectrum CBD profile and are made from hemp grown in the state of Colorado. Pupper Bites are beef flavored so your dog can enjoy them as a healthy treat. Pupper Bites are here to help your dog maintain a happy and healthy lifestyle. CBD dog treats are designed to help dogs with pain, inflammation, stress, anxiety, age-related issues, and overall health and wellness.
1 packet (2mg per chew)
$29 

.99
This product contains less than .03% Delta 9 THC and is non-psychoactive. We cannot guarantee that you will pass a drug test while using this product.
We do not ship Delta 8 products to Alaska, Arizona, Arkansas, Delaware, Idaho, Kentucky, Mississippi, Montana, Rhode Island, Utah, or Vermont. If you order this product from those states, we will NOT ship to you!
Use responsibly. Do not drive or operate machinery while using this product. Do not take more than the amount recommended.